The Brewster
Over at Hackaday, we were introduced to our staff favorite—The Brewster. The Brewster operates in a previously underserved area of home automation: beer retrieval. While it's still certainly in its early stages, the creator Rob McCallum successfully repurposed a state-of-the-art cleaner known as the Roomba
to not only grab a cold brew for yourself—but also be capable of opening the door of heaven (aka your refrigerator door). While it's only mini-fridge compatible—just watch in the video as the repurposed Roomba turned Brewster passionately grabs a beer for its master. AI is certainly reaching new heights with this one.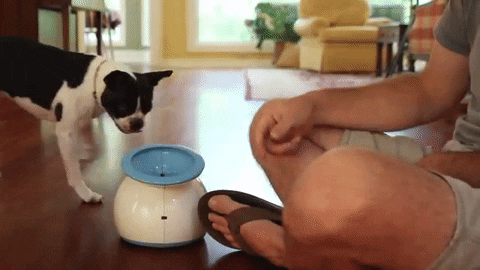 iFetch
iFetch
is the latest home-automation technology to shoot balls at your pet. Designed to actively shoot balls at your dog throughout the day, it teaches your canine friend not only to retrieve balls and put them in a new hole—it also teaches it true fear. As seen in the tech video for iFetch, the cute little pup literally shakes in anticipation for the ball to shoot out of the iFetch.  This weird piece of home automation is on the forefront of instilling fear and anxiousness into your dog while you are not at home. The Solar Chaser
The Solar Chaser is the ultimate way to deenergize your cat while only using solar energy from the mighty sun above. How does it work, you ask? The Solar Chaser sticks onto any window in your house that gets a healthy amount of sun and absorbs the sun beams to bob its arm. The arm is equipped with a detachable toy of your choice and is swung around in various directions. While it's a bit weird that you are attaching an arm to a sunny window to please your feline friend, none the less it's one of our favorite new innovative pieces of home automation.
LG Remote Ball
If you want to take playing with (read: torturing) your pet to the next level, though—look no further. The LG remote ball is the next-level home-automation tool for your furry friends while you're at work. The weirdest part? The LG Remote ball is designed for manual home security! The slightly-bigger-than-a-softball remote ball is equipped with an 8 megapixel camera that is capable of taking photos as well as capturing video and transmitting it all through your home wifi connection. To add to that, it's also equipped with a microphone and speaker so you can communicate with your pets during your lunch break security check. The remote ball is controllable through a mobile phone app and is quite possibly the weirdest security system for your house to date.  Keep an eye out for LG to announce the release date.
---
We've got deals, f'real.
Exclusive offers, discounts, and special membership rates for Review-Weekly.com approved products are all yours. Wanna be email buddies?